ROCIS is collaborating with University of Pittsburgh's Nesta Bortey-Sam, Ph.D., and doctoral candidate Abdul Alobireed at the School of Public Health on a project to analyze the contents of dirty air filters, used in furnaces, central air conditioners, portable air cleaners, or DIY fan/filters.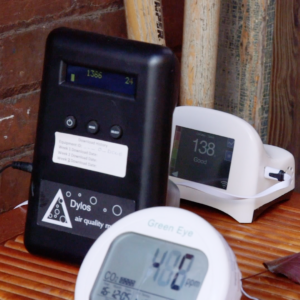 At ROCIS, we believe wholeheartedly in the importance of tracking indoor air quality, and the researchers at Pitt's School of Public Health see it the same way. "Most people in the United States spend around 80-90% of their time indoors," says Alobireed, "and a significant portion of that time is spent in their homes." This is why we devote so much time and energy to understanding exposure to contaminants in indoor environments.
While air monitors like those we use in the Low Cost Monitoring Project (LCMP) can tell you the number of small particles in your air, they can't tell you what those particles are. This is vital information. Alobireed explains, "Previous studies have shown that heavy metal concentration in indoor dust is affected by local human activities and atmospheric transport, and exposure to these metals can have adverse effects on human health. Heating, ventilation, and air conditioning (HVAC) filters have been successfully used to evaluate the indoor dust for heavy metal deposition, microorganisms and allergens, organics and other inorganic contaminants."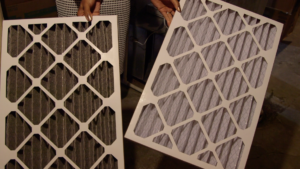 This filter collection project will help us to understand what is showing up in the air in southwestern Pennsylvania's houses. By analyzing the dust collected on household air filters, we should be able to get a more complete picture of what we're breathing. "This approach, known as filter forensics, will help determine the indoor pollutants," says Alobireed. "We strongly believe that such a deep analysis of the 'dust' accumulated on filters provides valuable insights into how to mitigate indoor air pollution."
Many of the participants in this study are previous LCMP participants. Anyone interested in participating in the study can contact Linda Wigington for instructions on how to package your filter and arrange for pick-up by our partners. If you are interested in hearing the study results (note that results will not be available for individuals, only as aggregated data), we'll gladly let you know when they are available.
Early spring is often a good time to change your filters…after the heating season and before the need for air conditioning kicks in.
Got a dirty filter? Reach out to Linda at [email protected] to join the study—use the subject line: "Dirty Filters."