by Tom Philips
Background: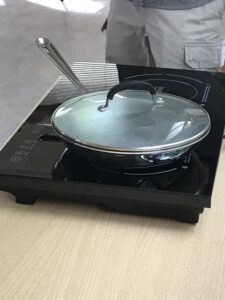 The following short list of annotated resources on induction stoves provides an update to the resources in the 2019 ROCIS Range Hood Guide update. The list addresses both residential and commercial buildings. The resources are listed in alphabetical order. The websites are adding new information periodically, so it is best to check them occasionally for the latest information.
Induction Stove Resources
Building Decarbonization Coalition
Consumer Reports
Green Building Advisor
Redwood Energy
Zero Emission Construction Guides: Comprehensive guides and summaries on induction stoves and heat pumps for residential and commercial buildings.
Check out more from

Redwood Energy.

New information is presented yearly at their Zero Carbon Workshops, live and on YouTube.
RMI
Tree Hugger
Wirecutter
The Best Portable Induction Cooktop. Rachel Wharton, updated March 7, 2022. Three single burner models were tested and rated for various cooking tests and consumer feedback.  A double burner model and specialized burners were also tested.
See Also: Research and other related links.
Local and State Programs: Electric utilities, housing agencies, green building groups, energy efficiency groups, and other programs often provide information and webinars on building electrification. Some provide loaner countertop induction burners to customers. Contact your local and state programs for more information.